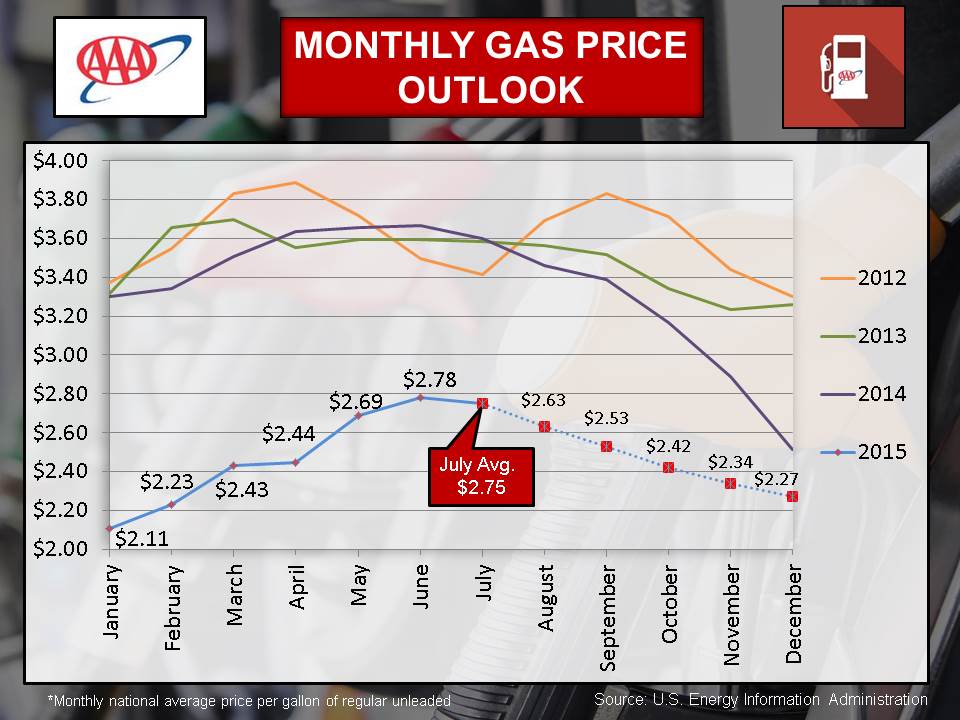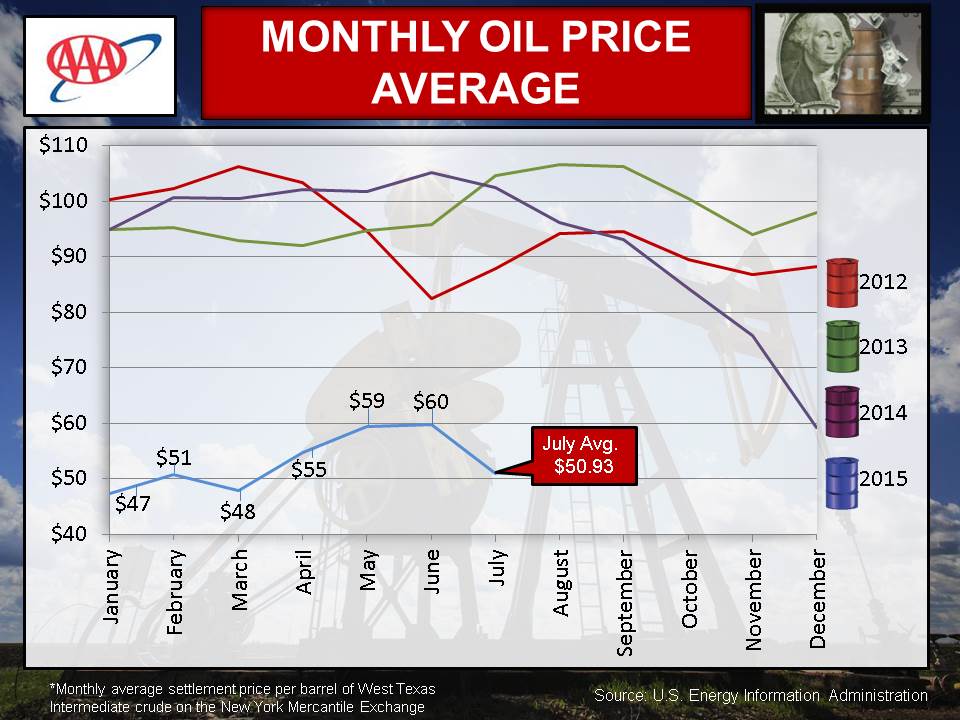 AAA: GAS PRICES FALL AT FASTEST RATE SINCE JANUARY
Average U.S. Gas Prices to Possibly Drop Another 15 Cents in August
TAMPA, Fla. (August 2, 2015) — Gas prices are falling at the fastest rate since January due to cheaper crude oil costs and the resolution of some refinery issues in the western United States. The national average price of gas has dropped for 18 days in row for a total of 12 cents per gallon. Today's national average price of gas is $2.65 per gallon, which is the lowest average for this time of year since 2009.
"It feels good to see gas prices drop during the middle of the busy summer driving season," said Mark Jenkins, spokesman, AAA – The Auto Club Group. "Millions of people are hitting the roads right now and these gas savings should make their trips more affordable."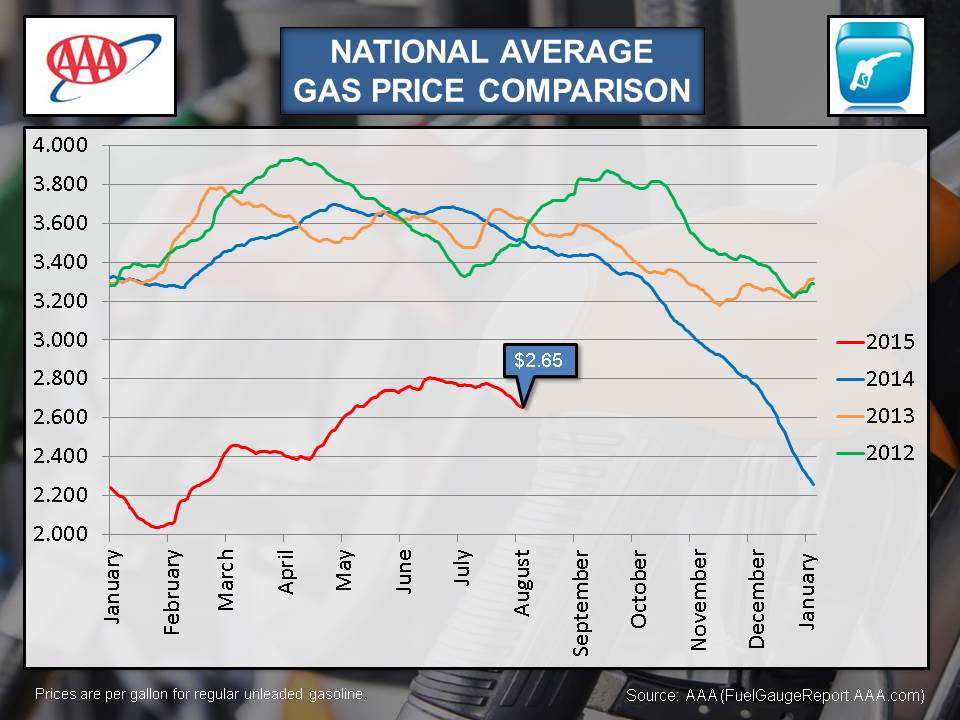 Gas prices averaged $2.75 per gallon in July, which was the lowest average for the month since 2010. Today's average gas prices are about 86 cents per gallon less than a year ago. The national average has dropped about 15 cents per gallon since hitting a 2015 high of $2.80 on June 15. This is the second year in a row that gas prices dropped in July. Last year, average prices dropped 16 cents per gallon during the month before eventually plummeting $1.65 per gallon though January.
Oil prices dropped sharply in July on oversupply concerns for the second year in a row. The cost of West Texas Intermediate crude oil closed at a high of $61.43 per barrel in late June and has since dropped below $48 per barrel. Domestic oil supplies are about 25 percent more abundant than a year ago, while domestic oil production remains about 12 percent higher than last year, according to the Energy Information Administration (EIA). Oil prices were last this low in March, when the national average price of gas was about 30 cents per gallon cheaper than today.
Lower gas prices and a growing economy have helped motivate people to drive more this year. Americans drove 275.1 billion miles in May, which was the highest monthly total on record, according to the most recent report by the Federal Highway Administration. It is likely that driving has continued to increase this summer as Americans take long road trips.
Average U.S. Gas Prices to Possibly Drop Another 15 Cents in August
Gas prices should continue dropping to catch up with the recent decline in the cost of crude oil. All things being equal, a $12 decline in crude oil costs could reduce gas prices by as much as 29 cents per gallon. Given that prices have already dropped about 14 cents per gallon since reaching a 2015 high in June, drivers could see prices drop another 15 cents per gallon in the near term if oil remains stable and refineries operate at current production levels. Gas prices could drop even further if oil continues to fall and gasoline supplies grow larger this month.
The recent price declines are hopefully just a precursor of much bigger savings to come at the pump," continued Jenkins. "We could see many parts of the country make another run towards $2 per gallon by the end of the year if everything keeps running smoothly."
Gas prices could drop more dramatically after Labor Day as people take fewer road trips and use less gasoline, which could lead to an even larger glut in petroleum supplies. In addition, stations in many parts of the country can switch over to less expensive winter-blend gasoline on September 15. The Southeastern and Central United States are the two regions most likely to see a large number of gas stations offering prices around $2 per gallon this winter.
There are a number of factors that could keep gas prices from falling as expected, such as major refinery disruptions, higher oil costs, a major hurricane or conflict overseas.
State Price Breakdown
Florida gas prices averaged $2.63 in July. Prices have declined for 26 consecutive days, for a total of 16 cents since July 8.
Georgia gas prices averaged $2.62 in July. Prices have declined for 25 consecutive days, for a total of 16 cents since July 9.
Tennessee gas prices averaged $2.51 in July. Prices have declined for 25 consecutive days, for a total of 15 cents since July 9.
CURRENT AND PAST PRICE AVERAGES
Regular Unleaded Gasoline
Sunday
Saturday
Week Ago
Month Ago
Year Ago
2015 Peak Price
2015 Lowest Price
National
$2.652
$2.655
$2.715
$2.767
$3.510
$2.80 (6/15)
$2.03 (1/26)
Florida
$2.512
$2.518
$2.582
$2.681
$3.420
$2.72 (6/18)
$2.07 (1/31)
Georgia
$2.499
$2.505
$2.561
$2.658
$3.402
$2.72 (6/15)
$1.99 (1/28)
Tennessee
$2.369
$2.373
$2.424
$2.534
$3.275
$2.58 (6/17)
$1.88 (1/26)
Click here to view current gasoline price averages
AAA updates fuel price averages daily at http://www.fuelgaugereport.aaa.com/. Every day up to 120,000 stations are surveyed based on credit card swipes and direct feeds in cooperation with the Oil Price Information Service (OPIS) and Wright Express for unmatched statistical reliability. All average retail prices in this report are for a gallon of regular, unleaded gasoline.
About The Auto Club Group
The Auto Club Group (ACG) is the second largest AAA club in North America.  ACG and its affiliates provide membership, travel, insurance and financial services offerings to approximately 9 million members across eleven states and two U.S. territories including Florida, Georgia, Iowa, Michigan, Nebraska, North Dakota, Tennessee, Wisconsin, Puerto Rico and the U.S. Virgin Islands; most of Illinois and Minnesota; and a portion of Indiana.  ACG belongs to the national AAA federation with more than 55 million members in the United States and Canada and whose mission includes protecting and advancing freedom of mobility and improving traffic safety.
Related articles